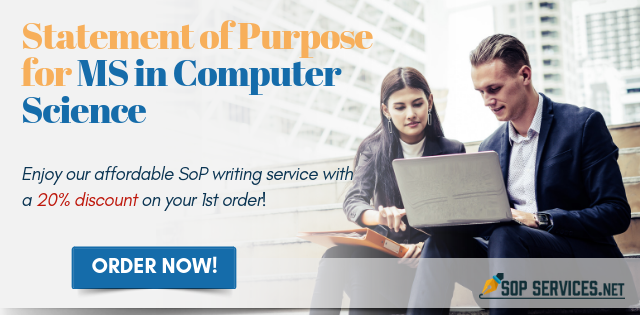 What Is a Statement of Purpose for MS in Computer Science
The statement of purpose is one of the most important papers from your application. But, what exactly is an SoP for MS in computer science? A statement of purpose is a type of admission essay where you need to write about your motive, goals, and academic expertise. You need to include relevant things to the course so that you position yourself as a strong candidate.
Students applying for a master's degree program will have to write one. However, you will have to tailor it according to the course you want to study. A statement of purpose for MS in computer science, for example, should include your career interests and any work experience that you may have.
Make sure you make the most of it by hiring a professional statement of purpose service. An expert writer will be able to highlight your skills and showcase your expertise in the subject with a convincing essay.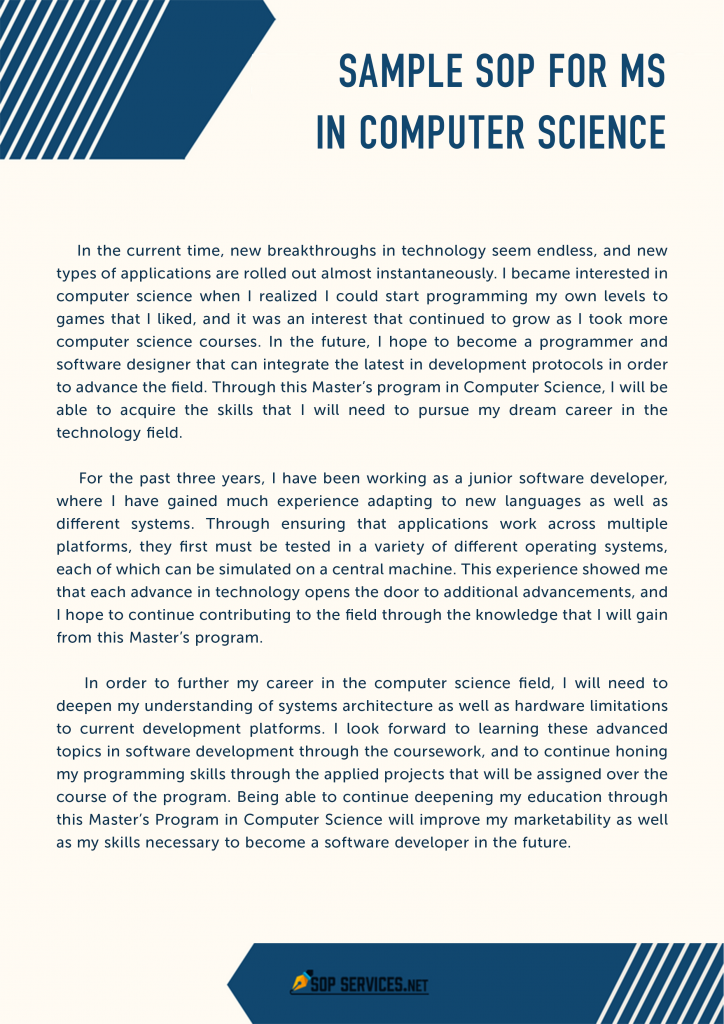 SoP Computer Science Writing Guide
Writing a computer science masters statement of purpose can be easy if you know what you should do. Making sure that you meet the requirements and use a particular format is vital. Remember that it is an important document for your application, so make sure that everything is perfect before submitting it.
Your statement of purpose should be around one or one and a half page long. It should be written with the Times New Roman font (12) and 1.5 line spacing. This will help the admission committee to read it easily, and quicker. Do not forget that they will have to read many statements of purpose.
If you are writing an SoP for MS in computer science with work experience you will need to explain how does that will help you finish the degree. Make sure you add strong reasons that explain why your experience makes you unique. Use stories to connect with the reader.
On the other hand, if you are writing an SoP for MS in computer science after a break in career, address why do you have that gap. Explain how will the degree help you get back in the workforce after your break.
Regardless of why you are applying to that master's degree program, you need to include the four main sections. They will help you showcase your expertise and motives.
Looking for the perfect computer science SoP? If so, then our professional statement of purpose writing service will deliver one to you in no time!
Parts of an SoP for MS in Computer Science
A winning SoP for MS in CS has to be well-written and relevant. It needs to address all the different points that the admission committee wants to know about you. Remember that this essay will help them decide if you are a strong candidate or not.
Check the different parts that your SoP for masters in computer science should include:
First part: The introduction should contain catchy sentences. It has to capture the reader's attention from the beginning. It also should prepare the reader for what they are about to read. Briefly, explain your motives for choosing that degree.
Second part: Continue by explaining your academic background. What areas did you find more interesting? Highlight the skills that help you achieve those milestones. Include any other activities related to your studies.
Third part: Discuss your career plans and how does this degree can help you achieve them. You can also add any work experience if you have it. Use personal anecdotes to illustrate this point.
Fourth part: Create a summary of what you have written. Repeat the most important information, the one that will make you stand out from the competition.
You can check a well-written sample SoP for MS in computer science and see how the different parts are linked to one another. Remember that a coherent SoP should be easy to read.
Five Things You Need to Pay Attention to When Writing Your SoP for MS in CS
If you are on the SoP computer science writing stage, there are five things that you need to pay attention to. Knowing them in advance can help you submit a strong SoP. Take note of these five points:
You need to pay attention to the skills you want to include. For example, if you have excellent computer programming abilities, make sure you add it. You can use examples from your everyday life to illustrate them.
Another thing you need to pay attention to is the type of language. The documents that you need to submit for admission to MS programmes should be written in formal language. You should always respect the reader and avoid using humor.
Think of your career goals and make sure they align with the program. So if you want to work with operating systems you will have to link it to the course. Investigate the school in advance so that you know what are their expertise areas.
The format of your paper is also very important. Familiarize yourself with it before you start writing your statement of purpose.
Also, make sure you have your facts straight before adding them. Double check that the professor or program you are talking about aligns with what you are saying.
Expert Advice That Can Help You Write the Perfect Statement of Purpose for MS in Computer Science
The MIT Graduate Admissions blog posted some tips on how to write a successful SoP. They say that a winning statement of purpose should help you make yourself relevant. And how can you do it?
Well, is you are writing your SoP for MS in computer science with mechanical background you should explain how does your background make you a unique candidate. Use your expertise and knowledge to stand out from the crowd.
They say that you should also demonstrate that you are qualified to take the course by interpreting and quantifying your experiences. So if you have to write an SoP for MS in computer science with information technology background, describe what you have learned from that experience.
Top 10 Professional Tips to Write a Winning Computer Science Masters Statement of Purpose
Do you want to know how you can write a winning computer science SoP or statement of purpose for MBA? Take a look at these 10 tips:
Organize yourself and plan ahead.
Investigate the school and the degree in advance and add facts about them.
The best SoP for scholarship for masters in computer science has to include good reasons. Make sure you link your motives to your career goals and your academic expertise.
Use the right format and language.
Brainstorm your skills, traits, and expertise and pick the ones that align with the course.
Do an outline before you start writing your SoP.
Be positive when talking about yourself.
Use anecdotes to illustrate your skills.
Do not forget to revise your statement of purpose before submitting it.
Edit your text to ensure it is coherent and readable.
We Can Do More Than Helping You Submit the Best SoP for Scholarship for Masters in Computer Science
Even if you are a good writer and are familiar with the format and requirements of an SoP, you may find it hard to write a convincing one. That's why it is better to choose our expert help. Our writers can help you demonstrate that you are the perfect candidate with a strong SoP for computer system technology.
We can help you save time while making sure you deliver a brilliant text. With our help, you will be able to focus on other things while we take care of your SoP. We can cover many subjects like science, maths, or even a nursing school statement of purpose.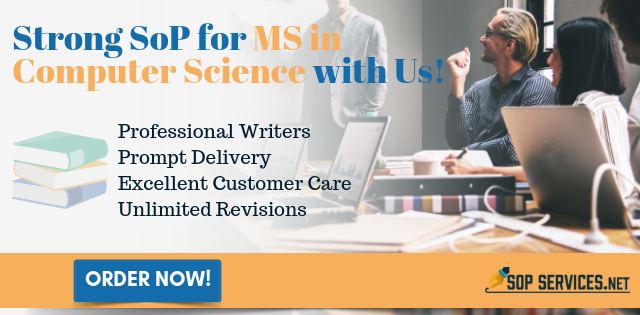 Benefits and Guarantees of Our SoP Computer Science Writing Service
We offer many benefits and great guarantees as part of our services. Check them out:
You will get an impeccable SoP thanks to our team. Our statement of purpose editing service will make sure that everything is perfect.
You will always get your SoP on time. Our reliable team will work hard to meet your deadline.
You can always contact our support team. They are available 24/7.
You will get a plagiarism free paper. We work with top writers who will only create unique essays.
We provide a fully confidential service. We also have secure payment methods that you can pick to make a payment.
Make sure the admission committee accepts your application. Contact us today for a strong SoP for MS in computer science!