Outstanding Law School Statement of Purpose – Writing Rules & Nuances
What Is a Law School Statement of Purpose Value?
Law school education requires a student to have exceptional law knowledge. The LSAT is a decisive factor for the law school admissions committee. Statistics and recent studies show that the percentage of applicants to law school has been increasing since 2018.
Competition for admission to the top law schools is becoming more challenging. More candidates have the same LSAT. Admissions members face a daunting task, and a law school statement of purpose can be the deciding factor. That is why school students should approach this essay exceptionally responsibly.
Due to the increased demand for the lawyer profession, law schools often do not offer oral admissions tests. Hence, a law school statement of purpose is essentially the only way for students to present themselves as individuals. With its help, you can show what kind of person is behind the academic record.
Statement of Purpose Law School Specifics
Statement of purpose law school is not just a description of academic performance, grades, and academic achievements, including published scholarly articles, legal projects, and awards. That's why law school applicants should be proficient in writing specialized legal application documents. Still, the law school statement of purpose differs from the legal text. The law school purpose statement is written in free-flowing literary form while revealing the candidate's strengths and showing the applicant's extreme interest in studying law at the chosen law school.
How to Start Writing a Statement of Purpose Law?
Creating a statement of purpose law school can be challenging because evaluating your law candidacy yourself is psychologically challenging. So experts often advise starting writing a statement of purpose with internal preparation, which includes several stages.
The school candidates must define for themselves why they go into this professional area. Determine their predisposition to study the humanities. Ask themselves how promising they see the prospect of studying at a selected school.
Conduct a critical analysis of their weaknesses and strengths as school candidates. Motivation should coincide with internal resources, not from theoretical assumptions about the proposal.
For a successful law school statement of purpose, experts do not recommend setting too delayed deadlines. It can lead to procrastination, putting off work until the last day.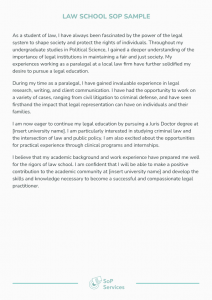 Make a schedule for writing a statement of purpose law and divide it into several stages. Do a draft, tweak it, and at the end, do another revision of the finished material since career goals can change even when the school statement of purpose starts writing.
Law school statement of purpose can be written in any form. But the most crucial parts of the letter are the introduction and ending. A solid beginning helps capture the committee's attention and hold it until the statement ends. Well-crafted conclusion with compelling arguments and personal thoughts helps committee members see personality.
The Most Optimal Way to Write a Statement of Purpose for Law School
Statement of purpose for law school must demonstrate excellent knowledge of the subject and related topics, strong career motivation, and reasoning for the student's goals. The main idea should run through the entire purpose statement.
Search For Good Statement of Purpose Examples
Checking and reviewing freely available school statements of purpose gives the advantage of seeing examples of successfully submitted cases. Clarify, what makes these statements of purpose outstanding, and what hacks can you use for your writing?
Specify Statement of Purpose Structure
The major mistake candidates make is that their law school statement of purpose needs a logical structure. If the text is not structured, it causes dissatisfaction and distrust. A good school statement of purpose should have an introduction, primary material, and a strong ending that summarizes everything said before it.
Focus on the Main Purpose
The vagueness of the law statement of purpose samples is another problem experts talk about. Сompetently worded statement of purpose describes one area of the professional field the candidate wants to pursue. It has its references in the form of appendices about success in that area. A well-disclosed topic better concretizes the school candidate's goals. On the contrary, an extensive description of a general theory leads to failure.
Emphasize Uniqueness
The law school statement of purpose must be unique. It should contain only the candidate's thoughts, verified facts, and personalized reasoning. Plagiarism and borrowing will be grounds for denial of admission.
Implement Personal View
The statement of purpose for law must be personalized. Personal experience and personality reveal a deep understanding, motivation, and focus on results.
Be Honest
The statement of purpose for law school must be honest. A candidate who looks objectively at their shortcomings and knows how to turn them into strengths will have an advantage in the selection process over a school student who describes unrealistic purposes to the committee and attributes unrealistic accomplishments to themselves.
Re-Check Your Statement Again
The law school statement of purpose should not contain a single grammatical, spelling, or punctuation error. This is a mandatory requirement. Even a well-written essay should be edited and checked until no mistake is left.
These are general recommendations for preparing the statement of purpose for law school. Students can do their own thing, but if they stick to these rules, candidates can be sure that their statements will be noticed.
Ask For Help With Writing a Statement of Purpose for Law Students
Sometimes there may need more time to write a perfect law school statement of purpose, or school students send out documents to several universities and need to write several such essays. In such a case, the best option may be to contact a specialized service that deals with help in writing SoP for law students.
Such services can help write many application documents, including a statement of purpose for law students. School students can get help at any writing stage, from choosing strengths and purposes to highlight to writing an SoP for law in their style to helping edit an already ready-made document. They will tell you where to add accents or remove unnecessary things. In any case, it is a winning option, so if candidates have problems with this document, they feel free to contact the service. Professionals will help write a law school statement of purpose that will attract the committee's attention. So hurry up to benefit from it!