Homepage
>
Graduate Statement of Purpose for Masters
Expert help with a statement of purpose education writing & editing
Try our expert SoP services to boost your admission chances.



Our students are accepted to:








Enjoy benefits we provide for every statement of educational purpose
All of our processes, guarantees & benefits are aimed to ensure you the best quality.
Original, eye-catching & custom docs
We do neither use templates nor duplicate materials. Professional statement of educational purpose writers create all texts from scratch based on the information you provide when you fill out the questionnaire, as well as customize & personalize writing as you need.
Tailored to the application requirements
Order from us and get a well-composed statement of purpose that meets all of the admission board's requirements. Be sure that we take our work of boosting your acceptance prospects seriously. We guarantee strict compliance with the demands placed by the committee.
Targeted on a specific program
Be sure we'll emphasize all the key reasons why you are interested in the program and those attributes that make you the ideal candidate. Our specialists don't use clichés, meaning that each education statement of purpose is perfectly adapted to a particular program.
Direct communication with the writer
We understand the importance of effective communication when creating custom SoPs. To ensure top-notch work, our customers are allowed direct contact with their writers. So you can discuss the details of your project, brainstorm ideas, and monitor your order status.
14 days of free revisions
Even the most talented writers can occasionally make mistakes, and you may need to change something in a statement of purpose education, or add more details. So, unlike most SoP services, we offer unlimited cost-free revisions for 14 days after the completion of your order.
Money-back guarantee
Our customers are allowed to request their money back within 14 days following the expiration of the order deadline. We have complete confidence in our statement of purpose writers. However, if the document delivered fails to meet your expectations, feel free to claim a refund.
Writing SoP gets you a lot of stress?
We are ready to craft the best statement of purpose education instead of you!
Order via chat

Work with the best statement of purpose education writers
Rely on our gifted, skillful, and carefully vetted writers. Their expertise in different academic fields and knowing admission processes assure you top-notch work.
Successful Admission Writing Experience
Brandon Ballard
BSc
Rating:


COMPUTER SCIENCE & MATHEMATICS
Customers highly rate Brandon because he delivers documents of only the highest quality and is always on time. Having a verified PhD and five years of experience helping students with complex tasks, he is one of the best writers you can hire to work on your education statement of purpose.
Kara Garner
MS
Rating:


HEALTH ADMINISTRATION & ASSISTING
Kara is one of the most talented and masterful statements of purpose writers. With a master's degree in IT, she can handle various subjects, including web design, programming, computer science & computer engineering. Having Kara as an expert working with your statement of purpose, expect only quality work on time.
Rosie Simpson
BSocSc
Rating:


SOCIAL SCIENCES & LAW
Rosie handles your education statement of purpose with the mastery of the acknowledged admission expert. With a background in marketing and accounting, she's well-educated on the intricacies of SoP writing. She will deliver an outstanding document to boost your admission prospects and prove your excellence to the committee.
Ryan Norton
MBA
Rating:


BUSINESS
Few writers are in as high demand as Ryan. In addition to his academic background and field expertise, he participates in the selection process, representing one of the most sought-after educational institutions in the country. Ryan enjoys plenty of orders he receives regularly. And you can become one more of his successful cases, ordering a statement of purpose from him.
Oscar Saunders
ME
Rating:


ENGINEERING
Oscar can boast his deep knowledge and expertise in various specializations. Besides, he is fast and efficient and has never missed a deadline in his four years working on our platform. Customers love Oscar for his dedication to work and his love of communication, as he always keeps them updated on the education statement of purpose progress.
Alicia Carroll
MS
Rating:


SCIENCES: BIOLOGICAL & PHYSICAL
Alicia is a talented statement of purpose writer, qualified in many areas, giving preference to the direction of natural sciences. She has been working with us for a year and has hundreds of positive reviews from satisfied clients. Expect her to carefully analyze your instructions and write an exceptional statement of purpose education highlighting your strengths and meeting all the program's standards.
Chris Sparks
PhD
Rating:


EDUCATION
Chris is talented and knowledgeable in several fields, including automotive, electrical, and industrial engineering. In addition, the writer is a guru in delivering a top-notch special education statement of purpose. Most members of our writing team love working with Chris because the material he provides is always impeccable.
James Willis
MD
Rating:


HEALTH SCIENCES & TECHNOLOGIES
James is top of the cream when writing statements of purpose in nursing and medicine. This professional is one of our finest gems, capable of quickly handling even the most urgent orders. Provide him with even the most challenging task and get expertly crafted work.
Jennifer Wagner
MA
Rating:


COMMUNICATIONS
Jennifer is one of our best statement of purpose writers with a master's degree in business. She can also handle educational administration, curriculum instruction, business administration, and coaching orders. If you have Jennifer working on an education statement of purpose, you can relax because the document she creates will be impeccable.
Kathy Boyd
ME
Rating:


ENGINEERING TECHNOLOGY & DRAFTING
If you need help with advertising, mass communications, and special effects, then Kathy is the writer for you. She is thorough and produces serious quality on all projects. Trust her with your statement of purpose, and let her help you thrive in your college application.
What customers say about statement of purpose for masters in education
User #User #000001

Alex is one of the best writers I have ever worked with. He followed all my instructions, and ask many questions about my expectations from the program. So no wonder that my statement of purpose turned out to be so wonderful
Verified experience
User #User #000002

Kathy's work was exceptional. My docs arrived on time, and every detail matched expectations. Thanks
Verified experience
User #User #000003

unbelievably good writer to work with, highly recommend!
Verified experience
User #User #000004

My writer was friendly and kept me updated throughout the writing process. In the end, the paper delivered was better than I expected. Nice job
Verified experience
User #User #000005

Thank you for such attention to detail, my education statement of purpose is above all praise
Verified experience
User #User #000006

excellent work, thank you very much
Verified experience
User #User #000007

What a good paper you delivered! Thanks for taking some of my stress away.
Verified experience
User #User #000008

Thanks for the outstanding work on my education statement of purpose for graduate school.
Verified experience
+20K
personal statements we've created for students worldwide
80%
of our customers came to us on friends' recommendations
+1K
programs covered where our customers applied to


Get a well-written education statement of purpose in 4 steps
1. Fill in the Form
2. Proceed with payment
3. Customer area
4. Keep up to date
Fill in the Form
The process does not demand much effort. Just fill in the fields to provide us with your requirements and press the payment button! To have an education statement of purpose as personalized as you can only imagine, specific details about your candidacy, including your achievements, the program you have selected, and the committee's formatting requirements are needed.
We highly recommend that you do not neglect our Questionnaire. Simply save it, fill it out, and attach this document to your order form. Nota bene: all of the information you submit will stay anonymous. All of your personal data is kept secret and will remain secure.

Make a Payment
Once you cope with the transaction procedure, our specialist will begin working on your statement of purpose education. You have nothing to worry about, as all of your money transactions are protected. Besides, each customer receives an email confirmation of the payment.
Payment methods:







Customer Area
As soon as we get notified of your successful payment, you will be immediately sent your customer area login and password details. The latter one, by the way, can be changed for comfortable usage. What this area has to suggest is your private communication with your writer and support manager. Moreover, you can use your customer zone to download the final education statement of purpose, ask for some emendations to the text, or manage additional orders.

Keep Up to Date
All of the updates will be available to you by email. Additionally, you can opt for SMS updates to have absolute control over your order. Once your statement of purpose is written, our Quality Department will check it for compliance with all the requirements, and you will be able to save it using your customer area. You will get your education statement of purpose on time or even earlier! In case you wish something to be fixed, simply contact our service within 14 days. We will revise it in the twinkling of an eye.

Monitor and administer your order

Email & SMS Notifications
Be keep-up-to-date about your order status with suitable notification ways.

Customer Area
Manage writing & editing processes, chat with assigned authors, and place new orders.

24/7 Support
Comprehensive help from our responsible support agents is always available!
Ready to get started?
Place your order in any convenient way.
Statement of Purpose Graduate School Education/Teaching: Why Is It Important?
The education statement of purpose is one of the most important documents a college student may ever have to write. It is produced as one of the requirements for the college application process, written to the admission panel. This document aims to show the vetting committee that you have the desire, skills, and aptitude to succeed in the specific program.
Top colleges receive tons of applications from equally deserving students. The statement of purpose education helps them make the best decisions for the selection process, giving them an understanding of candidates' personalities. In other words, the statement of purpose shows admission officials something absent from your grades and test scores. It is an essay that highlights your career interests, motivations, and abilities. It gives access to your life, subject knowledge, and vision.
Submitting a great statement of purpose graduate school education/teaching allows you to pitch your case to the admissions officials. It enables you to convince them of your abilities, highlighting why they should choose you over equally-deserving candidates. An expertly crafted SoP also shows you have what it takes to articulate your thoughts using your writing skills.
What to Include in an Education Statement of Purpose
The education statement of purpose is a concise document that universities require to show that candidates applying for admission have what it takes to thrive. The goal is to highlight your strengths, explain shortcomings, and convince admission officials to pick you. This writing should contain some of your professional and educational achievements relating to the program, what you are presently doing, and your future goals.
Here are some areas to consider for your statement of purpose for masters in education:
Information on your professional and academic background.
Your previous achievements and educational journey.
Your professional or work experience, including internships.
Your immediate and long-term educational and career goals.
Motivations behind your decision to join the college.
Any relevant extra-curricular activities.
Published works and relevant hobbies and interests.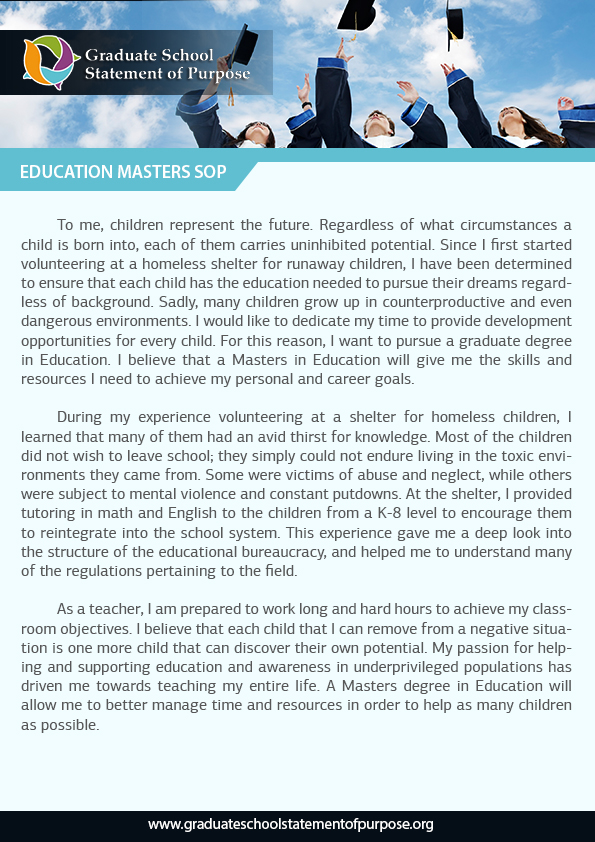 In terms of format, understand that the statement of purpose education follows the format used in formal essay writing. This means that your paper should open with an exciting introduction. After the first paragraph, include carefully articulated body paragraphs, using transitions to ensure flow and enhance readability. Sign off with a broad conclusion that draws from your statement and brings closure to the discussion.
How to Write Statement of Purpose for Higher Education Properly
It is important to reiterate that the SoP is concise and restricted by specific word count requirements. In most cases, the statement of purpose for PhD in education is between 1 and 2 pages long, meaning you must articulate everything in between 500 and 1000 words. However, your project's specific word count requirements will vary depending on the college and program you are applying to.
Most students get carried away when writing their statements of purpose, including information irrelevant to the SoP. Note that going above the word limit may reduce your admission prospects.
Here are other tips to help you create a striking statement of purpose for higher education:
Read and Understand the Requirements
You cannot write an impressive statement of purpose unless you understand precisely what it requires. Like other formal documents, the SoP will have a prompt indicating what the student is expected to achieve with this writing. Before you start working, read these requirements that come with a statement of educational purpose to understand what the admissions officials expect from their candidates.
Brainstorm for Ideas
Brainstorming is the next critical phase of planning your special education statement of purpose. Once you have understood the requirements, think about how you will approach the writing process. Think of ideas for your content and write down whatever comes to mind for further development. The ideas you generate during the brainstorming session can form the basis of your writing.
Research What Officials Look For
As you prepare your statement of purpose graduate school education to submit for higher education, understand that the admissions officials will have limited time to cover all submissions. This means that there is no room for irrelevance or inconsistencies. Before you start writing, therefore, spend some time going through what admissions officers want in good statements of purpose.
For instance, the committee will be interested in your writing ability, as reflected in the SoP. So, you must provide a document free from grammar mistakes and typos. They will also expect a language lucid enough to be clearly understood by even those outside your field of interest. Most importantly, admission officials expect you to cover those qualities or attributes that make you stand out from all other applicants. These are your defining characteristics.
Start Working on Your Draft
The sooner you start drafting your education statement of purpose, the more likely you will have time to create an outstanding document. Note that you will have to produce multiple drafts before you can submit an exceptional paper. This means that the first draft is not the place to stress grammar and syntax. Here, focus on articulating your points and covering every prompt element.
Your primary focus for the education statement of purpose for graduate school should be sharing your knowledge, skills, and learnings during your industry experience and education. Avoid using overly technical terms. Also, write your statement of purpose using the active voice.
As part of the body of your statement of purpose text, mention how you intend to contribute to the community and the benefits you intend to reap from completing the course. Make sure to edit and proofread your writing.
Need a Perfect Statement of Purpose for Education? Let Us Help!
A statement of purpose is a high-stakes document that could make or break your college admission prospects. You have to submit a carefully planned and thoroughly-edited text. So, don't panic or feel upset if you doubt your writing skills. There is a team of skilled and highly qualified writers working around the clock to help students with specialized SoP applications.
Order your statement of purpose for education today and boost your college admission prospects effortlessly!