Statement of Purpose Engineering Management – Best Tips and Samples
Statement of Purpose Engineering Management as Key Admission Milestone
Engineering has always been an in-demanded & growing field. And now, if you want to pursue a promising management career in this area, you must work very hard. But one thing playing a pivotal role these days, one of the most meaningful criteria for admission, is the statement of purpose engineering management from which a new milestone of your career starts.
Many colleges place a considerable emphasis on the statement of purpose. Applicants must write about themselves, something between an official letter and an article explaining why they want to get into their institution and particular program.
Hence, if you have no prior experience writing statements, you might have trouble coming up with something that shows you as a decent candidate. Therefore, we highly recommend you get expert assistance with a statement of purpose for engineering management, as our service providers are the best in preparing admission documents.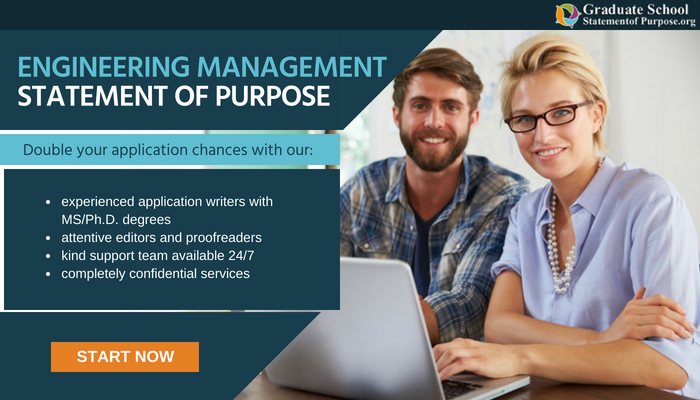 Statement of Purpose for Engineering Management Masters and PhDs
Being one of the many documents from the admission package, a statement of purpose engineering management, nevertheless, play a vital role. Among numerous applicants with similar cases, grades & experiences, well-written SoP is what can boost the candidacy & strengthen a position dramatically. And there're many cases when you may need a statement of purpose. Still, some of them are most demanded – e.g., a statement of purpose for a master's in engineering management or a PhD SoP.
Each of these versions of a statement of purpose engineering management differs. So it's incredibly convenient to explore this difference to understand the features of different SoPs.
Purpose: regardless of level, a statement of purpose can focus on your academic and professional achievements, relevant work experience, and future career goals. It also can be more research-oriented, emphasizing your research interests, experience & plans.
Length: then higher the educational level requiring a statement of purpose engineering management creation, the longer a doc can be – the difference can be from 1 to 4 pages, but clarify it with particular institution requirements.
Tone: The tone of a master's statement of purpose is more professional and career-focused than that of an SoP PhD engineering management is more academic and research-focused.
Focus: A master's statement of purpose engineering management is more focused on demonstrating your program suitability and future career goals, while a PhD SoP is more focused on showing your research potential and ability to contribute to the engineering field.
Look at Good Examples of Engineering Management SoPs
It's worth mentioning that the factors described above focus on the personalization of a statement of purpose engineering management. There, students need to clearly articulate their motivations, background, and future goals, as well as demonstrate their fit for the program. It sounds challenging, so we can offer you to look at some professionally-written statement of purpose examples to understand this idea better.
Please, pay attention to the structure and writing style of this sample statement of purpose for graduate school engineering management. You're able to use it as a reference for your own document, but don't forget to customize it and implement your own materials there.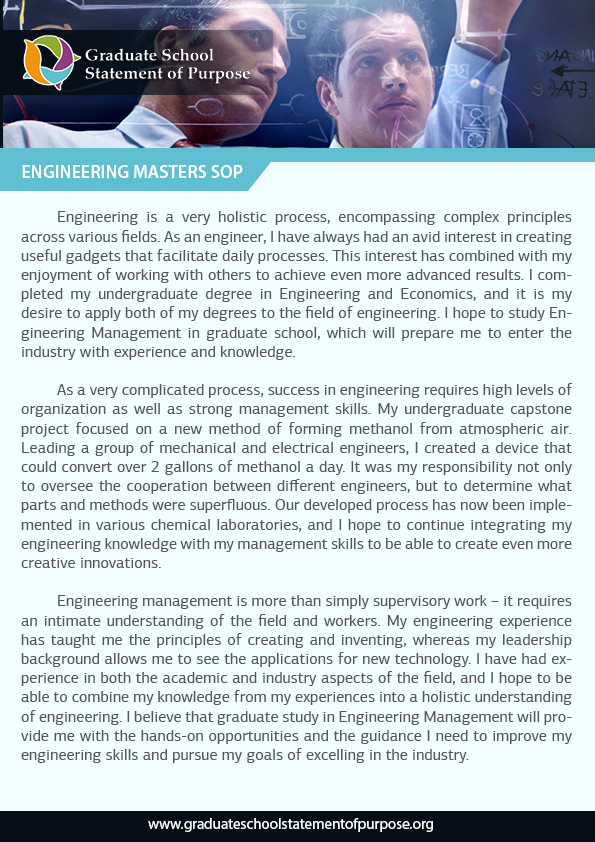 Dos and Don'ts of a Good Engineering Management SoP
When writing an engineering management SoP, it is crucial to keep in mind a few key dos and don'ts to make your statement of purpose stand out. Here are a few tips:
Do:
Tailor your sample statement of purpose for graduate school engineering management to the specific program and university you're applying to.
Highlight your relevant work experience, academic background, and research interests.
Demonstrate your engineering management passion and your commitment to your future career goals.
Be concise and focused in your writing. Keep your statement of purpose to a maximum of 2 pages, and make sure each sentence is necessary and adds value to your application.
Don't:
Use a generic statement of purpose that you've used anywhere before.
Overuse technical terms or jargon.
Include irrelevant information.
Neglect statement of purpose proofreading and editing.
By following these tips, you can write a solid and compelling statement of purpose engineering management that stands out. Time-tested experts did a great job developing these lists. So, if you have any additional questions or need assistance, feel free to contact us.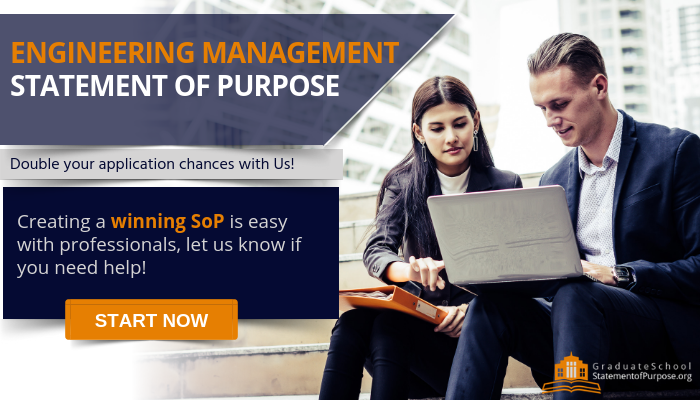 We Help With Various Types of SoP for Engineering Management Programs
Now, you don't need to worry about getting the SoP for engineering management done when you're going to enroll in many well-reputed universities. These institutions require candidates to write a statement of purpose with which we can help professionally.
The expert writers are capable of composing the relevant statements of purpose for any programs of these universities:
SJSU Engineering Management
GWU Engineering Management
CU Engineering Management
MIT Engineering Management
UCF Engineering Management
Duke University Engineering Management
Try Our Engineering Management Statement of Purpose Writing Service
These are the reasons to avail of our engineering management SoP writing help. Make sure you can enjoy all of these benefits after placing an order on our website:
Our statement of purpose writers are highly specialized in engineering management. They also are well-versed in all modern admission rules, and SoP format demands.
Our experienced editors are also at your service. They can adequately revise your engineering management statement of purpose and spot even minor errors. All amendations are performed manually, using the newest tools and software.
The statement of purpose is written per the degrees' and majors' specific requirements. In short, you'll never get the same SoPs for engineering management and engineering research.
Moreover, we're ready to create different versions of one statement of purpose engineering management if you apply it to other institutions. And each one will be perfectly adapted to the chosen program.
We're able to make as many revisions as you ask. So, yes, the amendment number is unlimited. We'll edit the written statement of purpose as often as needed until you're satisfied.
Need Your Own Sample SoP for Engineering Management? Get It Now!
Getting college admission is challenging, as many people prepare hundreds of statements pursuing the goal of taking one position. Hence it would help if you had someone to guide you with a statement of purpose engineering management and tell you what would work best for you. And our experts are the people who help you gain everything.
Regardless of the program's competitiveness, educational level, or task complexity, we'll be able to find an appropriate expert doing their best with sample SoP for engineering management related to your case. Just provide the materials needed to personalize a statement of purpose and give us some time.
Creating winning documents for engineering management is easy with our statement of purpose writers, so feel free to benefit from it now!