The Most Professional SOP in Project Management Writing Service Online
What Is SoP in Project Management?
Creating a statement of purpose for project management is a common writing task that students face when applying to the institution. This document allows them to show their professional experiences and ambitions and opens the doors for several study courses and programs. Having an SoP in project management is essential for most universities and colleges.
It is noteworthy that SoP meaning in project management is difficult to overestimate. A well-written statement can dramatically boost your candidacy, even if you have a low GPA or educational background. So, below we share some tips for making an outstanding SOP for project management program admission.
SoP for Project Management – General Tips and Advice
Let's start with a few essential points that should be considered while working on your SoP for project management.
The number of words in SoP for project management is usually between 800 and 1,000.
If the university you apply to has specific application requirements, you have to create your project management SoP in strict accordance with the required format.
Highlight your significant achievements in project management. It will be a solid addition to your SoP.
Despite mentioning your achievements and big wins, don't forget to write about integrative and critical thinking, problem-solving possibilities, experiential mindset, and other skills. It should also be a part of a personal statement for project management.
Focusing on the area of interest, future professional goals, motivation to take up this field, and project management experience/skills may be crucial. It signals to the committee that you understand your capabilities and what you can achieve with the academic program.
What Should Project Management SoP Consist
Before you start writing project management SoP, it's essential to organize your thoughts and create a plan. Below we present the format of the project management SoP, highlighting all the major parts of the document.
Introduction
A catchy introduction would be a plus for your project management SoP, making the committee read the whole document. Connect your interest, skills, knowledge, and experience with your passion for studying the chosen course. The better you introduce yourself and show your desire to learn in the project management program, the more crucial starting point you will have for your SoP.
Academic Background and Work Experience
Telling about academic and working experiences are must-have for SoP. Candidates can mention a particular subject in their undergraduate course that helped them develop an interest in procurement management and sustainable development. You can also describe projects you have been working with on your full-time job. It will be a significant advantage to your SoP.
The Reason for Obtaining a Degree in Project Management
Explaining the advantages of getting a project management degree will help you strengthen your SoP. It would also be beneficial to clarify the course curriculum's scope and its demand in the current job market to justify why the degree is necessary. Then, your SoP will sound more confident if you use proper argumentation.
Short- and Long-Term Career Goals
Clarify what you want to achieve in your career and how a project management program will help you reach your goals. Mention both short-term and long-term goals, as it gives the committee a clear understanding of your intentions and what you want to achieve while studying in this program.
The Reasons for Being Accepted Into the Particular University
Explaining the choice of a specific studying program should come along with why you choose the selective university. In your project management SoP, say that using its capabilities (library, local database, etc.) will help you research and achieve the goals you set for your program.
Conclusion
In the last paragraph of the project management SoP, summarize everything you mentioned. It also would be a plus to say what you can give this particular institution as a student (for example, running projects on topics that other students never explored).
Good SoP Project Management Examples That Can Help
Describing a process of writing SoP project management with all the details may be good, but it may not be enough. To better understand SoP, candidates may need an example to see what a completed project management statement of purpose looks like. You can see some of the SoP examples on our website. After reviewing them, you will clarify the complicated points.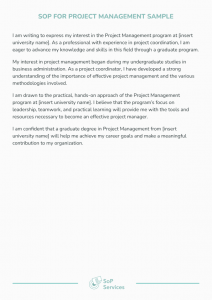 It's worth mentioning that all of these examples of SoP project management were created by our top admission experts. They have already helped many students to be successfully admitted to various programs, including business & project management. So, now you can use them to form a proper structure and set the right accents. However, ensure you don't copy-paste parts from these examples into your writing. Your SoP project management should be unique and well-customized to your individuality.
Ensure Your Statement of Purpose for Project Management is Flawless
You have to test and revise your SoP project management document. Understand that the first copy of your management document will not be the last one you create. You need to ensure that your SoP uses action-oriented language.
It would be best to edit to ensure your SoP is scannable and free from typos and grammar mistakes. Also, define your SoP metrics, and don't hesitate to change the format if needed. If you are unsure how to tackle the statement of purpose project management, get professional help from our specialists online.
We guarantee the following:
On-time delivery.
Complete security.
Affordable SoP writing.
Friendly customer support.
100% original work.
Need Help With SoP? Our Writing Service Can Cope With Any Task!
The main goals of project management SoP are to show progress and your desire to develop further in the project management field. It also helps you clarify your expectations and career plans. Given the importance of this document, you need the most experienced professionals to help with its writing. Our service is ready to help whether you need an SoP project management writing from scratch or assistance with polishing and editing ready-made documents.
Commitment to quality is at the heart of every statement of purpose for project management we create. Project management specialists who disregard quality when ordering SoP writing support from online services set themselves up for failure. With our service, you are guaranteed original, eye-catching, and custom-written documents delivered on time.
We have talented writers who have spent years mastering the art of creating outstanding SoPs. Order a custom project management statement of purpose and get a crisp, original, affordable document.