Internship Statement of Purpose: How to Create Impressive One
What Is an Internship Statement of Purpose?
Starting a career as an intern can be one of the most exciting times in the life of a young professional looking to gain experience and build their resume. Understand that most exceptional internship opportunities have limited intakes, meaning that competition for a few slots will be cutthroat. A well-written internship statement of purpose makes a huge difference in your application.
The statement of purpose sent as part of the application documents for an internship is an essay where you describe why you are the most suitable candidate. Since the position on offer will attract multiple interests, you need an outstanding document highlighting what you intend to gain from the internship experience. Therefore, the internship statement of purpose talks about the professional and personal goals intended for the internship.
Why Is the Statement of Purpose for Internship Important?
The statement of purpose for internship is a personal document that adds value to selecting the most deserving candidates. For most organizations, academic records don't provide the whole picture for choosing applicants. They use the internship statement of purpose to evaluate elements of your application that cannot be captured by grades alone. The reviewers want to see aspects of your vision and ethics.
The internship statement of purpose is also an important document where the applicants showcase their academic records, abilities, experiences, and skills. You want to show the committee you have what it takes and the drive to thrive at the organization. The statement of purpose helps the selection board find the individuals with the right fit for the internship programs.
The internship statement of purpose also explains how the candidate will make the best of the position when offered a chance. Remember, a good internship program can help you make great strides in your career, and your future employer will want you to have some industry experience. So, if you're going to boost your chances of landing a great job in the future, start by creating an incredible statement of purpose.
What to Include in the Statement of Purpose Internship?
Statement of purpose internship writing needs must use the proper structure and contain helpful information. The best statement of purpose is concise and captivating, leaving the committee wanting to know more about you and your candidature.
Start brightly with purpose highlighting.
You must include a great statement introduction where you articulate what you are applying for, some background on you as a candidate, and your academic credentials. Make sure to highlight some unique information about your candidacy. For example, what makes you stand out? Articulate these points to make the selection officers understand you better.
Mention previous experience related to the internship.
Also, include information about your research and work experience in the internship statement of purpose. The organization will want to know your experience in workplace environments. Make sure to include any research experience related to the job. If you have something specific motivating you to apply for the internship, talk about it. Also, indicate in the statement of purpose how the internship relates to your future career ambitions and purposes.
Tell about your interests and achievements.
When thinking about how to write a statement of purpose for an internship, understand that statement of purpose is also where you talk about your current interests. So how is the internship linked to those interests? You must also ensure your statement includes your academic qualifications and achievements.
Remember, the internship statement of purpose is not a resume!
Remember, the internship statement of purpose written for an application is not a resume. Instead, consider it an essay where you describe your skills, talents, credentials, and abilities. It gives you an extra edge over other applicants and shows that you have what it takes to grow at the organization. If you are unsure how to create a striking internship statement of purpose, consider getting professional help.
Statement of Purpose for Internship Sample: Important Lessons
Internship applicants unsure about how to create the best statements of purpose should consider reading through samples online. Of course, you should never copy directly from the statement of purpose for internship sample on the web. However, the samples on our site contain valuable insights, helping you create a remarkable internship statement of purpose.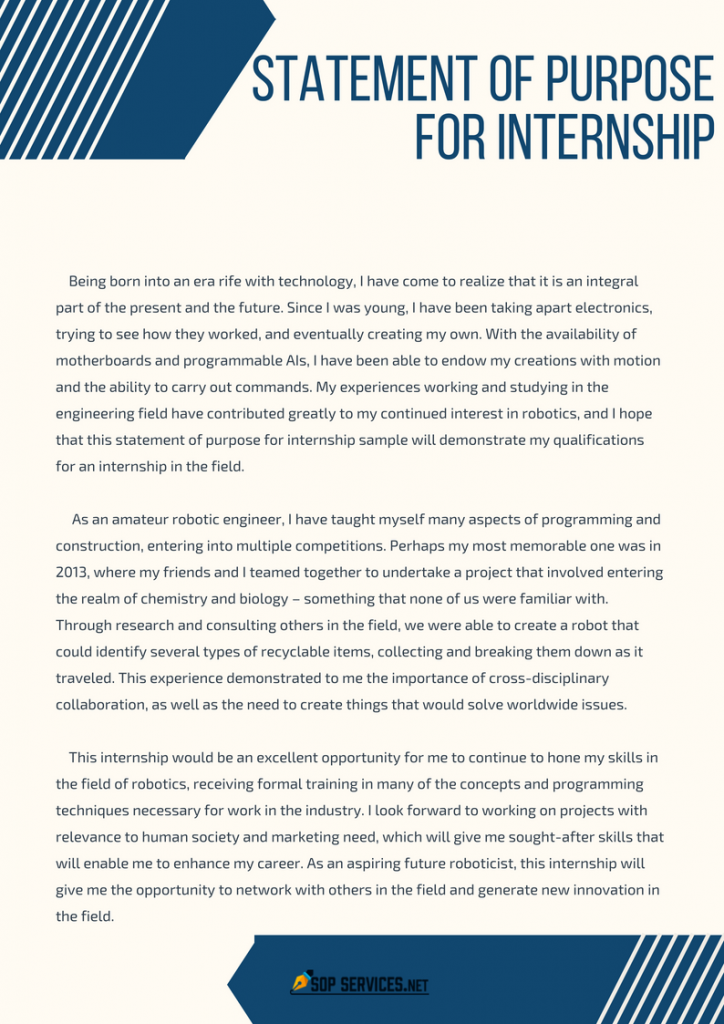 Lesson 1: Plan Your Writing Carefully
The essential lesson you can glean from our samples is the importance of planning. The best statement of purpose is often the outcome of careful brainstorming and outlining. With a good outline, your SoP for internship will flow logically.
Lesson 2: Provide Smooth Storytelling
When writing your statement of purpose, make sure to use transitions between paragraphs, allowing readers to move seamlessly throughout your story. There will be a specified word count requirement for your paper. Make sure you adhere to the rules and structure your statement of purpose appropriately.
Lesson 3: Make Sure There Are No Errors
Like every other formal paper, your statement of purpose should be free from typos and grammar mistakes. Spend time proofreading your text for content flow, logical presentation, and proper formatting. Failing to proofread your statement of purpose sends the message that you are careless and may cost you an internship opportunity.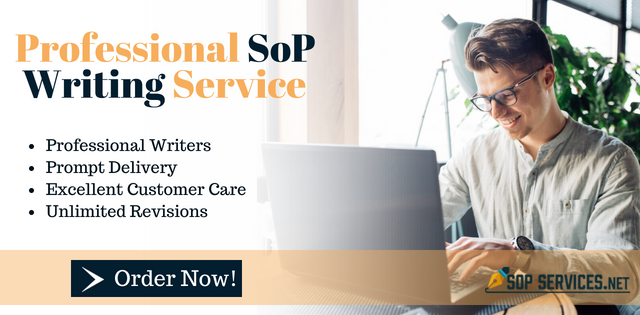 Still Not Sure How to Write a Statement of Purpose for Internship?
Are you applying for a competitive internship opportunity? Do you need a well-written statement of purpose for research internship but don't have any idea about its creation? So, there is a beneficial solution to save some time and obtain a well-written document. Just try professional help from experts who know precisely how to write a statement of purpose for internship, strengthening your candidacy significantly. Using our writing services, it will be easy to hire the best ones. Here, we've united the best admission specialists who provide not only professional assistance with statement writing but support for your admission purposes realization.
Don't Wait! Get a Quality Statement of Purpose for Research Internship Now
There is a high chance that the organization you are applying for the internship will have multiple other applications. At the same time, a good position allows you to grow your professional network and get the experience you need for future opportunities. When facing stiff competition from other applicants, a good internship statement of purpose acts as a unique document that shows your skills and markets your abilities beyond what is contained in your grades.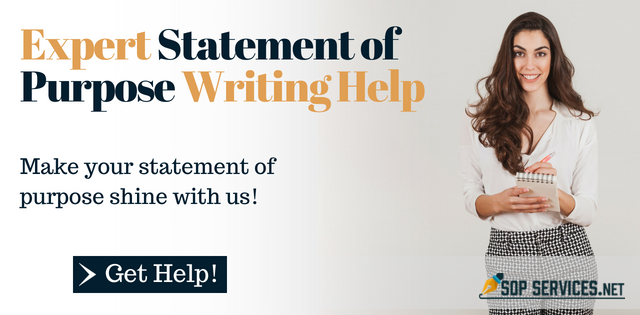 Our service offers high-quality writing support, and we have a team of qualified experts ready to assist with your internship statement of purpose. So place your order today and enjoy top-notch help with a wide range of application documents, including a winning statement of purpose for internship!