Check Our Amazing SoP Samples Tailored to Various Academic Levels and Schools
Need High-Quality Help with Your Own Statement of Purpose? Our Admission Experts Are Here for You!
In applying for a University entry or admission to a Master's degree, you need a statement of purpose (SoP). Composing the statement of purpose helper is the most difficult and tedious part of the application process. SoP is the long essay required by universities and usually written in 1000 words to understand the life of the candidate, his/her motivations and goals in choosing a career path.
There are many aspects of a candidate's application that are inspected before acceptance. Academic record, as well as exam scorecards, is objective in nature; only the SoP represents truly the subjective and personal aspect of the applicant. It is the only document in your application that gives you the opportunity to prove that you have something unique that makes you stand out from the crowd. Writing a reasonably good statement of purpose is not an impossible task but it requires much attention, care, and patience.
Our Dedicated Writers Craft Targeted Statements of Purpose
As They Are True Experts in Various Academic Fields
Literature
& Languages
Philosophy
& Ethics
Economics
& Finance
Business
& Management
Political Science
& Sociology
Psychology
& Education
Biology
& Chemistry
Medicine
& Health
Physics
& Engineering
Computer Sciences
& Technology
Steps to Success
Get Help Now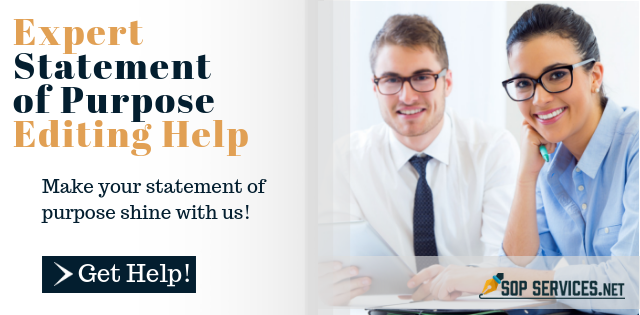 Can Examples of Statement of Purpose Writing Help You?
Your statement of purpose needs to be written to a very high standard if you want it to help make you stand out from the many other applicants that you are competing against for a place. Often your statement can be the deciding factor in you being selected as your grades can be very similar to many of the other applicants. But writing a good essay without an expert statement of purpose helper can often take many weeks of hard work on your part.
Knowing what to write and how to actually write it within your personal statement or statement of purpose for MBA is not easy. But using an example of SoP writing can often provide you with the help that you are looking for. Samples are often a perfect way to understand just how your own personal statement will need to be put together.
How to Use a Sample of SoP Writing

Looking at SoP format examples and writing samples can show you just how your own statement needs to be put together. They will show you exactly what areas you will need to cover within your writing. How you can make your statement engaging and create flow to draw the reader in, and also how your
statement of purpose for scholarship
will need to be formatted and structured.
Do not however simply copy or modify any samples that you find no matter how good they are. Using plagiarized material will guarantee that you will not get placed. Not only that; no sample that you see is going to actually be about you or tailored to meet the expectations of the program that you are applying to. You can only use samples for guidance and ideas.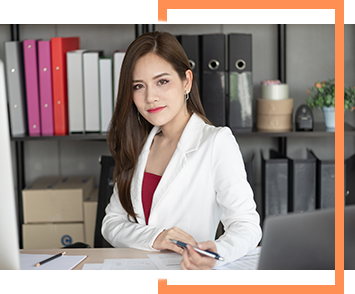 Difficulties in Writing Statement of Purpose
Writing a reasonably good statement of purpose is not impossible but your statement of purpose needs to be written to a very high standard if you want it to shine above other applicants that you are competing against for a place. Often your statement can be the deciding factor but writing a masterpiece essay can often take weeks of hard work on your part. For this reason, you need professional help from writing experts who will guide you all the way.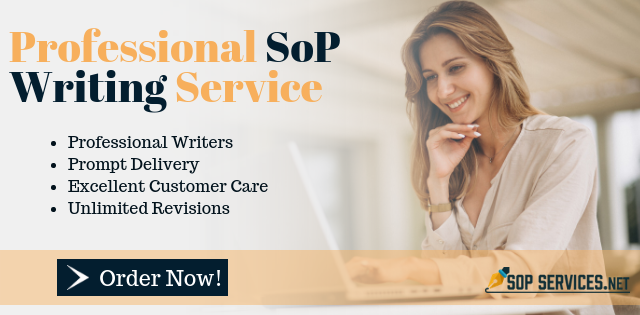 Tips for Writing an Effective SoP
Not every sample SoP that you see online is going to be good, many will be written very poorly. So you do need to review everything that you look at critically to ensure that what you are looking at is as good as it claims. Writing a statement just by looking at samples is not going to be effective; the following tips for SoP writing will help you to create the best statement of purpose that will work in your favor: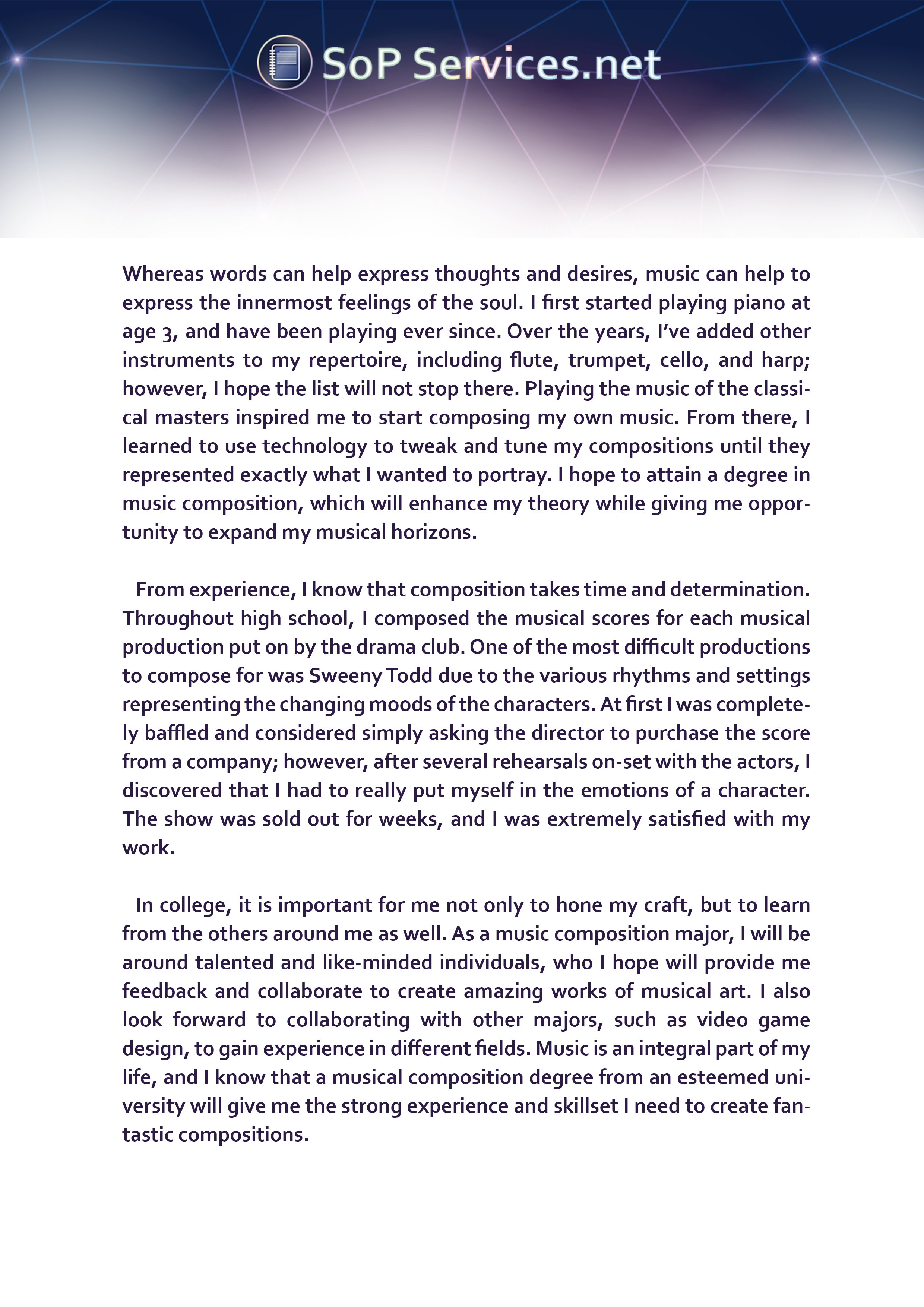 Find a personal anecdote that is interesting to form a theme for your statement and to provide a story line for your writing. Your statement will need to flow like a story to keep their interest
Ensure that your opening line is attention grabbing. You have to hook in your reader right from the very start of your statement
Cover all of the areas that the committee will want to understand about you:

Why are you applying to study this subject area; how and why did you become interested?
What steps have you already made within your education to pursue this interest?
What skills make you suited to study and work within this field?
Where do you see your career going once you have graduated?
Why are you applying to this specific program of study?

Be concise in your writing; your word count is limited so do not waste it by using excessive filler
Use language that is easy for anyone to understand; do not use fancy overly complex words to try to be clever and never use acronyms or slang
Do not use clichés or any quotations within your writing; they want to hear your words only
Always write about yourself; this is a personal statement and they want to find out who you are
Always be positive; they do not want to hear about what you don't want to do or why something does not suit you
Only include information that is going to help you win a place, do not make obvious statements or repeat information that you have included elsewhere in your application
Be honest; do not lie or exaggerate your abilities
Proofread your work very carefully, simple mistakes can make you work look sloppy and make it seem that you are less interested in the position
Check What Our Satisfied Customers Say About Us
This is good. This what I was looking for. Provides justification for how and why my current background will be a fit for this program Good job!
Malaya, USA
Wow, such a good write-up. I am happy that I signed up for this. I will re-read it and think if I need to add anything more. Thanks for now. I will contact you again if needed.
Meenu, India
I am grateful for the excellent job you have done. I truly can't imagine a better statement.
Nadeira, USA
Thanks a lot for the SOP! It reached my expectation.
Sai, India
Choose the Best Professional SoP Writers

Most important part of your application documents is your statement of purpose. This has to be an attention-grabber to get the interest of admission committee who will be encouraged to find out about the person, not the grades attained. For this reason, you need professional SoP editing and writing to come to the rescue to prepare your SoP. They are the best in the creation of perfect SoP. This makes specialized SoP services so effective.
From you writing experts guarantees that you can easily follow examples of statement of purpose to state clearly your goals, the career path you have taken up so far as well as your academic progress. Use SoP format examples to write following traditional SoP that adheres to ISO 9001. You can follow examples best suited to your particular needs at this moment. Many elements stated in the example of SoP will guide your way. With a given sample of SoP, you can talk about your chosen university course as well as elaborate on how you intend to use that experience to achieve your goal.
Top Reasons to Entrust Your SoP Writing or Editing to Our Specialists
We Can Help Write Your Effective SoP

With some of the best qualified and most experienced writers that you will find online we can provide you with effective help with your statement. Our experts hold post graduate degrees within the areas in which they provide support and will always work with you one on one to ensure that your statement is truly personal and crafted to reflect what the program expects. All work is proofread to eliminate errors and plagiarism report is included to confirm that it is unique. Our SoP writing services are highly affordable and reliable and can always provide you with the help that you need within the timescale that you need.
For help matching the quality of any examples of statement of purpose writing that you have seen just contact our experts here today!