Prove your excellence with a nice teacher statement of purpose
Creation of a statement of purpose becomes easier with professionals



Our students are accepted to:








Be sure of the top quality of your statement of purpose teaching
Keeping the quality level high is a top priority of our work.
Original, eye-catching & custom docs
Creating a unique teacher statement of purpose without templates is our fundamental point. We write & edit texts based on your materials or the filled Questionnaire to highlight your strengths and show why you are the #1 candidate.
Tailored to the application requirements
Receive a teacher statement of purpose considering all admission requirements. Rest assured that we'll ensure strict compliance with the selection board's requirements regarding crucial factors, such as the doc's format & content.
Targeted on a specific program
When creating each teacher statement of purpose sample, we focus on the key reasons people choose the specific program and why they fit it the best. Moreover, your document will be well-personalized and free from any cliches.
Direct communication with the writer
Benefit Customer Area features to be in touch with your writer 24/7. Discuss details of the statement of purpose for teacher, brainstorm new ideas, or add information to the text. Here you can also request edits or track the order status.
14 days of free revisions
Request text revisions to change a teacher statement of purpose as you want within two weeks after the deadline. This option is entirely free, and the number of changes is unlimited. We will edit your doc until you're fully satisfied.
Money-back guarantee
Does the statement of purpose international teacher not satisfy you? Or facing some issues that our writing experts cannot fix? Feel free to contact the support managers and claim your money back – we'll make a refund immediately.
PREPARING APPLICATION DOCS TURN INTO A REAL PROBLEM?
Leave it to us and forget all pains related to a teacher statement of purpose creation.
Order via chat

Who will help you with a teacher statement of purpose
Meet our best statement of purpose writers who can help impress the committee and convince them you're precisely what they want.
Successful Admission Writing Experience
Ryan Norton
BSc
Rating:


COMPUTER SCIENCE & MATHEMATICS
If writing about architectural, chemical, or other types of engineering looks complicated, leave it to Ryan. He proves his PhD degree every time he gets a task, delivering excellent papers again and again. So if there's somebody passionate about coping with complex cases, it's Ryan.
Kara Garner
MS
Rating:


HEALTH ADMINISTRATION & ASSISTING
Dealing with tasks related to computer science & mathematics is Kara's bread and butter. She's the best pro when it comes to SoP preparation. Thus, there's no problem creating another good teacher statement of purpose with her skills and knowledge. Whether you need one in this field, choose Kara as your writing expert.
Rosie Simpson
BSocSc
Rating:


SOCIAL SCIENCES & LAW
Rosie is writing about accounting, marketing management and research, risk management, and other topics quite well, and the rating says it's all. She knows how to focus on advantages, describing a person as the best candidate. If she makes your statement of purpose, you'll be bright & shine, undoubtedly!
Oscar Saunders
MBA
Rating:


BUSINESS
Preparing a statement of purpose teacher example on anthropology, criminology, history, or other social sciences may be challenging, but not for Oscar. If you trust such a document to him, you'll get a serious advantage. This writer will bring you a 100% winning SoP where all requirements are met.
Brandon Ballard
ME
Rating:


ENGINEERING
Brandon earned his high rate due to his ability to deliver statements of purpose of the highest quality on time. With five years of experience, he knows how to help people present themselves in the best way, keeping their identity. If you trust Brandon with your teacher statement of purpose example, you can only expect top-notch quality.
Alicia Carroll
MS
Rating:


SCIENCES: BIOLOGICAL & PHYSICAL
Alicia knows everything about writing teacher statement of purpose examples in fields she specializes in. She is at your service, whether it's ecology, genetics, astronomy, or other sciences. She will carefully analyze all client information and write an excellent paper. Your best qualities will be described in the best way.
Kathy Boyd
PhD
Rating:


EDUCATION
Advertising, mass communications, and other topics are those where Kathy can help. She cares about details and writes statements carefully so as not to miss anything. Quality is Kathy's top priority, and she always shows it after taking a new order.
James Willis
MD
Rating:


HEALTH SCIENCES & TECHNOLOGIES
Need a statement of purpose on health sciences & technologies? James is the one who can help you. Send him requirements and materials, and clarify some points that may look problematic. After a short time, you will receive an excellent teacher personal statement with everything you need.
Jennifer Wagner
MA
Rating:


COMMUNICATIONS
Besides the ability to write scientific docs, Jennifer has another great talent. She delivers outstanding statement of purpose teaching program samples, helping clients achieve their goals. Jennifer handles application documents in several subjects related to the educational area. So you can count on her if you need to prepare an SoP in one.
Chris Sparks
ME
Rating:


ENGINEERING TECHNOLOGY & DRAFTING
Get in touch with Chris if you need help with a statement of purpose about mechanical drafting, automotive engineering, and other related areas. Being extremely energetic and curious, he ideally takes orders one by one, helping people achieve their goals effortlessly. Chris always succeeded in various deadlines, delivering documents right on time.
Customers' words about statement of purpose teaching program
User #User #000001

What nice work! I've never thought it's possible to reach such quality!
Verified experience
User #User #000002

great writing, thank you
Verified experience
User #User #000003

the writer did everything really well, wow
Verified experience
User #User #000004

the best teacher statement of purpose I've ever seen. nothing else to add.
Verified experience
User #User #000005

so well written and no mistakes. perfect
Verified experience
User #User #000006

writer understood all my wishes and turned them into this awesome sop
Verified experience
User #User #000007

completely satisfied! thanks a lot
Verified experience
User #User #000008

Thank you for such a good teacher statement of purpose. It was hard work, but you did your best. taking off my hat
Verified experience
+20K
personal statements we've created for students worldwide
80%
of our customers came to us on friends' recommendations
+1K
programs covered where our customers applied to


4 simple steps to get an outstanding statement of purpose for teacher
1. Fill in the Form
2. Proceed with payment
3. Customer area
4. Keep up to date
Fill in the Form
The process does not demand much effort. Just fill in the fields to provide us with your requirements and press the payment button! To have a statement of purpose teaching program as personalized as you can only imagine, specific details about your candidacy, including your achievements, the program you have selected, and the committee's formatting requirements are needed.
We highly recommend that you do not neglect our Questionnaire. Simply save it, fill it out, and attach this document to your order form. Nota bene: all of the information you submit will stay anonymous. All of your personal data is kept secret and will remain secure.
Download a questionnaire

Proceed with the Payment
Once you cope with the transaction procedure, our specialist will begin handling your teacher statement of purpose. You have nothing to worry about, as all of your money transactions are protected. Besides, each customer receives an email confirmation of the payment.
Payment methods:






Secure:




Customer Area
As soon as we get notified of your successful payment, you will be immediately sent your customer area login and password details. The latter one, by the way, can be changed for comfortable usage. What this area has to suggest is your private communication with your writer and support manager. Moreover, you can use your customer zone to download the final teacher statement of purpose, request some emendations to the text, or manage additional orders.

Keep Up to Date
All of the updates will be available to you by email. Additionally, you can opt for SMS updates to have absolute control over your order. Once your statement of purpose is written, our Quality Department will check it for compliance with all the requirements, and you will be able to save it using your customer area. You will get your statement of purpose for teacher on time or even earlier! In case you wish something to be fixed, simply contact our service within 14 days. We will revise it in the twinkling of an eye.

Monitor and administer your order

Email & SMS Notifications
Be keep-up-to-date about your order status with suitable notification ways.

Customer Area
Manage writing & editing processes, chat with assigned authors, and place new orders.

24/7 Support
Comprehensive help from our responsible support agents is always available!
Ready to get started?
Place your order in any convenient way.
Teacher Statement of Purpose – Features & Pitfalls to Be Aware Of
It is not a secret that getting an advanced degree in education increases a teacher's career opportunities and enhances remuneration while providing crucial professional skills. However, getting this isn't easy because effective programs are highly competitive. Often there are dozens or even hundreds of candidates with the same credentials for one place. And the statement of purpose for teacher is what offers a prime opportunity for the applicant to share educational achievements, certifications, aspirations & motivations.
Having a well-written SoP is crucial for the success of your college application. The teacher statement of purpose is a short document where you articulate your interests in a college, emphasize your career goals, and highlight why the program is ideal for helping you achieve your educational and career goals. Based on it, the committee will decide whether to consider your candidacy and enroll you in the program.
What Writing a Statement of Purpose Teaching Comprises
Understand that the teacher SoP could be the document that makes or breaks your application. It allows the admission committee to assess your career goals, readiness to take on teaching, beliefs, subject knowledge, and vision. In other words, a statement of purpose for teacher paints a picture of the candidate's personality for admission officials, affecting their decision to accept your candidacy.
In terms of what to include in the teacher statement of purpose, remember that an effective SoP is created based on a personal story, which you must format per the official requirements. That said, here are some crucial elements for the success of your application:
A personal background highlighting your motivations and academic journey.
Academic qualifications and professional experience, including employment and voluntary work.
Immediate and long-term goals, emphasizing career and educational ambitions.
Reasons to select the specific field.
Reasons to choose a particular program and your desire to bring your contribution to it.
It would help if you also considered using the statement of purpose teaching to talk about any relevant extracurricular activities that may improve your prospects. If you have any published works or papers submitted for publication, include them in your SoP. Use the document to clarify aspects of your application that may not be immediately apparent to admissions officials.
Consider it while writing because the perfect teacher statement of purpose concerns not only impressive self-presentation but attention to detail and the ability to demonstrate your soft skills.
Focus on Your Audience Expectations
Get started with a bit of research helping to understand your audience to tailor the teacher statement of purpose appropriately. Remember, the officials will have limited time to go through your application and review it. So, you should make every effort to ensure your teacher SoP is compelling and relatable to the selection board's vision – it gives your statement more chances to be accepted.
Read Committee's Instructions and Implement Them
Read carefully and ensure you understand the committee's requirements. In most cases, the teacher SoP comes with instructions from the institution the applicant is expected to meet. It may be rules regarding format, content, or word count – small but significant enough to understand your intentions and ability to follow the recommendations. Tailor your statement of purpose teaching to these guidelines, reading and rereading the instructions until you know what the admission officials want.
Brainstorm and Create an Outline
Plan out your writing, brainstorm ideas, and create an outline to help draft a teacher statement of purpose. When you start writing, focus on articulating your thoughts and telling your story without stressing about grammar and syntax. Most experienced writers find it easy to write first and edit later.
Pay Attention to Document Structure
In terms of the structure for your teacher statement of purpose, follow the conventional five-paragraph essay approach. This means opening your document with an exciting introduction before proceeding to the body paragraphs. In the introduction, preview who you are and your intentions. Your teacher SoP should also have a clear conclusion summarizing your main points and a short CTA motivating the committee to accept your application or invite you to an interview.
Read and Revise Your Writing
The teacher SoP is your chance to show what makes you unique and why the college should want you in its program, so it has to be clear and free from mistakes. After creating your first draft, proofread your text for grammar, formatting, and content errors. Do the same after finishing the teacher statement of purpose and before submitting it. The more time you revise and polish the writing, the more likely it'll be flawless.
How Great Teacher Statement of Purpose Examples Can Help
Accessing and perusing through teacher statement of purpose examples is one of the most effective ways to improve your writing skills and understand how to create exceptional documents. The samples on our website have been created by some of the most gifted specialists in the industry. They will give you ideas on how to draft and polish your document.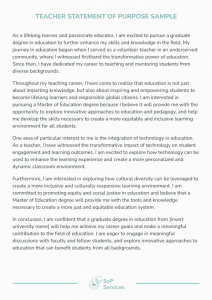 That said, the teacher statement of purpose sample should only serve as guidance, and you should not present it as your own. Each application requires a custom and uniquely written SoP tailored to meet the program's requirements and the applicant's attributes. Follow these tips to help you create an outstanding statement of purpose.
About the Need to Adapt Statement of Purpose Teaching Program
Other than the competencies you provide in your test scores, resume, and portfolio, top schools use the SoP to evaluate your suitability, basic skills, critical thinking, and motivation. The statement of purpose international teacher can also cover key factors relating to the candidate's academic and professional journey.
However, the higher the educational level you pursue to earn, the less relevant information about your previous education becomes. For example, graduate selection committees place more excellent value on hands-on experience and professional involvement, while doctoral programs place more emphasis on research.
The further you progress in your career and educational goals, the more achievements you have in your luggage. Therefore, it is imperative to take seriously the selection of information that you include in the teacher statement of purpose. Feel free to also ask for help from other people or experts who specialize in creating application documents.
Get Comprehensive Support From Leading Admission Experts
While there is no definite guide on the weight your teacher SoP will have on your acceptance prospects, the document can shape decisions relating to your admission. The statement of purpose teaching program offers a chance to shine, showing why you are unique and more favorable than others. Given this prominence, you must ensure the best statement of purpose possible. We have top writers ready to prepare an outstanding teacher SoP for you.
Trust us with your statement of purpose and get impeccable writing that brings out your best attributes!