Importance of Statement of Purpose Editing Service
Your application for a place at college or university needs to really show you in your best possible light if you want to get selected over the many others that are applying for a place. Competition is high and often there is little to choose between you and many others when it comes to your grades. Therefore your statement of purpose (SoP) is often the only way that you have to be able to make yourself stand out. If you don't know how to write a SoP but it needs to be perfectly written in a way that is going to cover everything that the committee is looking for in an engaging manner.
Achieving the standard of writing required to make an impact with the committee is far from easy and this is why you are often best looking for a writing statement of purpose editing service such as ours. With more than 5 years online our editing help is able to effectively ensure that your statement will make you stand out for all of the right reasons.

When Do You Need to Write Statement of Purpose
Writing a statement of purpose (SoP) is a prerequisite when you are applying to grad school. Usually, it covers 2 to 3 pages wherein you convey your interests and experiences using specific and vivid details. However, a statement of purpose that stands out and excites admission committees can make a successful application. For a perfectly written SoP, it must be edited to correct mistakes and errors so you need a SoP editing service and a statement of purpose editing.
Common Mistakes in Editing Statement of Purpose
Wrong university and incorrect program reference. This is the most common mistakes committed by students are busy applying in multiple Universities and programs may have different titles.
SoP plagiarism. Copying and SoP plagiarism are not good for it hampers your chances of a university admission.
SoP length: too short or long. SoP's ideal length is around 1 to 1 ½ page of Word Document and the number of words is between 550 to 600.
Not mentioning the chosen program. Remember to state the courses you liked because of which you have decided to join this University.
Egocentric SoP. The student writes about successful projects in the SoP without giving credits to other members because of which the project was a success.
10 Tips SoP Editing
Use positive language by saying what it is.
In-between paragraphs use words to link to the next or use a phrase like "Following the event" to create a connection or even a complete sentence.
Change sentence structure to always see subject, verb, and object or switch things up by using simple, complex, and compound sentences.
Understand what you write as your writing is to communicate your ideas, not to impress the adcom with your vocabulary.
A thesaurus helps you find alternatives words you find yourself instead of repeating that makes your writing more interesting.
Be concise by saying in as few words as possible what you want to say. Your brevity will be appreciated.
Every word you used must count so do not repeat yourself. You must make everything you write introduce something new.
Exclude qualifiers as probably, possibly, quite, rather, somewhat, probably, possibly, etc. Show in your writing confidence in yourself so delete qualifiers that show weakness.
Use the active voice for it shows more vitality than the passive voice and identifies who is doing the activity and what the object is.
Read and refer to Elements of Style by William Strunk, Jr. and E.B. White.
Our Statement of Purpose Editing Is Effective

We offer our statement of purpose for internship services through only highly qualified and certified editors that will work with you to ensure that your statement is brought to the required standard. They will do far more than just give your statement a quick read through as some other services may, nor will they just pass your essay through a piece of software. Our experts work through your writing methodically to ensure that it is capable of doing the job that it is intended for.
They will ensure that everything that the committee is looking for is fully covered effectively. That you have your SoP for MS in information technology written in an engaging manner, that your flow draws the reader along and that your word choices are appropriate for your audience. All of the suggested changes that they recommend are provided on a marked-up copy for your review. If you feel that additional help is required then our writers will make revisions until you are fully delighted with the results of our help.
Our Editors Are Qualified to Review Your SoP
Effective editing or SoP proofreading is something that requires real skill.
This is why our experts are selected very carefully so that you will work with someone that is:
Profoundly qualified within the subject area of your paper

Utterly certified professional editor

Deeply experienced with the editing of statements of purpose

Knows what the committee is expecting from your statement

Is a fluent native-level speaker of English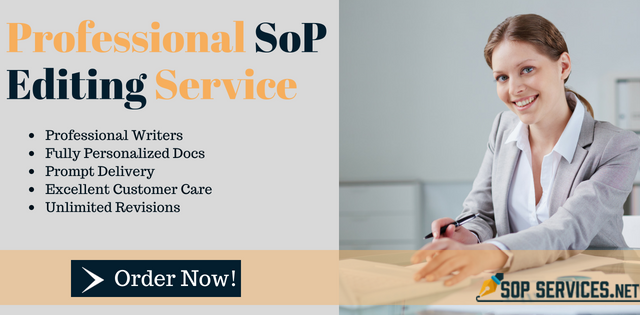 Guaranteed Editing Support

If you don't know how to write a perfect SoP and to achieve the standard of writing required to make an impact with the committee is far from easy so you must and this is why you need professional service. They will provide you best looking for a writing statement of purpose editing service and some great SoP format examples. We have more than 5 years online experience in editing, For more information and details, please feel free to send us a message.
As a professional service, we are dedicated to ensuring that you will always benefit from the highest standards of help at all times. We provide our editing only through qualified staff and also support you fully with all of the following benefits and guarantees:
Around the clock professional assistance and 24/7 ordering

Uninterrupted connection with our specialists and unlimited alterations

On-time delivery within your deadline

Unique and original text with a plagiarism report

Secured error-free writing with our proofreaders

Fully confidential well-priced services

Guaranteed satisfaction with our editing or your money back
Provide your statement of purpose with that final polish that it needs by contacting our trustworthy and effective SoP editing service here online today!