Why is an expert statement of purpose editing service significant for the school application? Well, you are creating a unique academic profile to magnetize the admission staff. Your ACT is gone, your SAT is passed, and the documents package is ready. Now it is your time to shine, aka to complete your statement of purpose. We believe that you are an assiduous applicant and already have a draft for the statement. Shall we begin?
What is a statement of purpose?
A statement of purpose for admission is your golden ticket to your dream university. That may sound dramatic, but the role of this piece of writing during the application process is crucial. This statement determines the final decision about your acceptance based on your qualities and plans.
There are important principles of statement of purpose editing. To compose a marvelous SoP, you need to possess a deep understanding of them:
Personality traits and other competitive attributes.
Stories and experiences, which are usually not included in a CV.
Excellent grasp of the chosen subject and university requirements.
That is why we consider that communication with a client is key to a successful statement of purpose review. Before advising someone on how to introduce themselves better, you have to know the person, right?
Why is writing a good statement of purpose so important?
You might have an extremely high GPA, but the enrollment of students for every new class is all about creating an effective and creative team. Thus, each applicant is chosen based on what they can bring to the university community. That is why a fabulous statement of purpose for university admission is your main opportunity to get enrolled.
It goes without saying that grammar should be impeccable, but it is not the only reason why it is often recommended to have professional writers check the statement of purpose.
How can you edit your statement of purpose?
Many people believe that statement of purpose checking comes down to simple proofreading. Yes, perfect grammar is a must for these kinds of essays. Nonetheless, SoP checking also means the following:
Assurance of coherence and comprehensiveness
Editing the structure and correcting the order of paragraphs
Reviewing the vocabulary and removing clichés
If you are willing to edit an essay by yourself, follow these steps:
Every day of the week, check your SoP for mistakes and typos. Trust us. If the text is written and edited by the same person, it is challenging to notice each and every error. Therefore, it is advised to proofread at least five times, focusing solely on grammar.
Make sure other people read your essay. Feel free to ask them for sincere feedback. What do they remember from your text? Have they understood the main idea?
Read your text out loud and try to think out of the box. Is it interesting to you? Do you have a desire to skip any sentences or even a paragraph? If you are bored reading your own essay, believe us, other people will be bored even more.
You have listed the facts from your biography, proving that you are an ideal fit for the chosen program. You think that you have done everything or even pushed yourself beyond your limits. The problem is that all your ideas cannot get connected in one absorbing essay. Not everyone has Shakespeare or Fitzgerald in themselves, so it may seem tricky to check statement of purpose. We have a solution. Our professional writers know how to spice up your draft. They can restructure your essay so that the admission committee can be immersed from the very first line. Simply contact our statement of purpose editing service, and you have no problem!
Most popular type of a statement of purpose people ask us to edit
The grad school statement of purpose editing service we offer is delivered by a team of talented specialists from different fields. We understand that a statement of purpose is not a drop in the bucket, so proficiency in the relevant discipline is its critical part.
We have experts in more than 15 fields:
Med school SoP
Law school SoP
Psychology SoP
MBA SoP
Residency SoP
Tips and advice for your statement of purpose
We do not need to tell you how much data about SoP editing is available on the internet. However, often it does not really work. A lot of advice is not helpful, and the articles are too wordy and useless. We feel you! Let's bring you up to speed.
What is the goal of a statement of purpose?
Before even outlining your statement, it is pivotal to realize that the sole aim of an SoP is to introduce yourself to the admission committee. You do not copy info on your achievements from the CV document and do not paste it into your SoP. You add new details about yourself. That is why it is imperative to provide not only a grammatically accurate text but also a piece of writing that can make the admission officers want to meet you in person. Thus, professional statement of purpose help is an indispensable part of SoP writing.
What should a statement of purpose include?
We will skip all the small talk and will get down to business. Firstly, study the requirements for your SoP carefully. Some universities are attentive to your career perspective, but others are focused on your current skills. Therefore, make sure to create an essay on the specified topic. While preparing a draft of your essay, ensure that all these questions are answered:
What is your motivation?
Why this field/discipline?
How are you different from other applicants?
What special skills did you acquire during work/studies/volunteering?
What can you contribute to this particular college?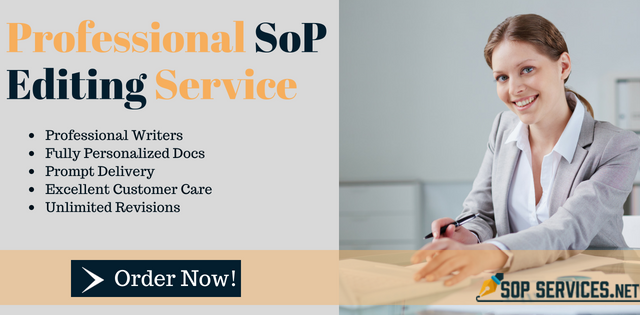 What should you avoid in a statement of purpose?
Do not forget that a statement of purpose is an official paper and has many rules and limitations. So, here you have four frequent mistakes that people make when composing an SoP:
Weak introduction. In the intro paragraph, it is essential to catch the reader's attention and set the right tone for the essay.
Unconvincing conclusion. Do not be afraid to repeat yourself: summarize your key achievements and goals vividly and concretely.
Informal style and slang. Yes, we encourage you to be inventive, but remember that it is a document and requires formal language.
Too much explanation of a low GPA and gaps in education. Do not let the reader think that you are making excuses.
Why choose us
Experts from our statement of purpose editing service exactly know what you are undergoing. Stakes are truly high, and your essay must be awesome in all aspects. To meet all the requirements, years of practice, special skills, and in-depth knowledge of what the admission committee wants are necessary. Thus, it is natural to ask for some help. We deserve to be your choice. The assigned SoP editor will put a lot of effort and, after diligent research, will create an astonishing essay based on your draft. Do not hesitate to turn to us and get enrolled in the desired university!